Writing opioid prescriptions
The Misuse of Drugs Act 1971 prohibits certain activities in relation to 'Controlled Drugs', in particular their manufacture, supply, and possession. In order to allow use of Controlled Drugs for therapeutic purposes, The Misuse of Drugs Regulations 2001 (and subsequent amendments) define the classes of person who are authorised to supply and possess Controlled Drugs while acting in their professional capacities and lay down the conditions under which these activities may be carried out.
In addition to usual prescription requirements, additional information must be provided.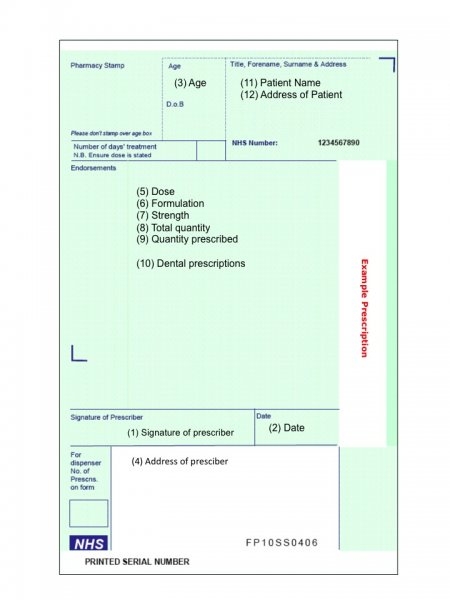 SIGNATURE: the prescription needs to be signed by the prescriber with their usual signature.
DATE: the prescription needs to include the date on which it was signed. Controlled Drugs prescriptions are valid generally for 28 days.
PATIENT'S AGE: if under 12 years
PRESCRIBER'S ADDRESS: the address of the prescriber must be included on the prescription and must be within the UK
DOSE: the dose does not need to be in both words and figures however it must be clearly defined
FORMULATION: the formulation must be stated; the abbreviations "tabs" and "caps" are acceptable
STRENGTH: the strength only needs to be written on the prescription if the medicine is available in more than one strength. To avoid ambiguity, where a prescription requests multiple strengths of a medicine to fulfil a particular dose, each strength should be prescribed separately (ie, separate dose, total quantity, etc)
TOTAL QUANTITY: the total quantity must be written in both words and figures. If the medicine is in dosage units (tablets, capsules, ampoules, millilitres, etc), the Home Office advises this must be expressed as a number of dosage units (eg, 10 tablets [of 10mg] rather than 100mg total quantity). The total quantity can be expressed as the multiplication of two numbers provided both components are clearly and unambiguously written in words and figures (eg,"2 packs of 30; two packs of thirty"). Liquids should be expressed as millilitres.
QUANTITY PRESCRIBED: the Department of Health and the Scottish Government have issued strong recommendations that the maximum quantity of Schedule 2, 3 or 4 Controlled Drugs prescribed should NOT exceed that needed for 30 days. This is not a legal restriction but prescribers should be able to justify the quantity requested (on a clinical basis) if more than 30 days' supply is prescribed. There may be genuine circumstances for which medicines need to be prescribed in this way in which case the prescribing decision needs to be clearly documented.
DENTAL PRESCRIPTIONS: where the Controlled Drug prescription is written by a dentist, the words "for dental treatment only" should be present
NAME OF PATIENT
ADDRESS OF PATIENT
A pharmacist is not allowed to dispense a Controlled Drug unless all the information required by law is given on the prescription. In the case of a prescription for a Controlled Drug in Schedule 2 or 3, a pharmacist can amend the prescription if it specifies the total quantity only in words or in figures or if it contains minor typographical errors, provided that such amendments are indelible and clearly attributable to the pharmacist. Failure to comply with the regulations concerning the writing of prescriptions will result in inconvenience to patients and delay in supplying the necessary medicine. A prescription for a Controlled Drug in Schedules 2, 3, or 4 is valid for 28 days from the date stated.
Further Reading