Pain Medicine training is part of the CCT in Anaesthetics
There are modules for Stage 1, Stage 2, and Stage 3 Pain Training, which all anaesthetists undertake. Beyond this there are modules for Stage 3 Special Interest Area (SIA) Pain Training, which are undertaken by Pain Medicine specialists.
Acute pain and some chronic pain are included in the Stage 1 capabilities of the Anaesthetics curriculum. Specialist pain training in the UK now consists of 20 half-day sessions from CT1 to ST5 and a four to 12-week block in Stage 3 Pain Training; this is compulsory for all anaesthetists. This may be followed by a 6 month Stage 3 SIA in Acute Inpatient Pain or a 12 month Stage 3 SIA in Pain Medicine.
For further information on the 2021 Anaesthetic curriculum click here.
The Faculty has produced guidance for pain training in the 2021 curriculum which can be viewed here.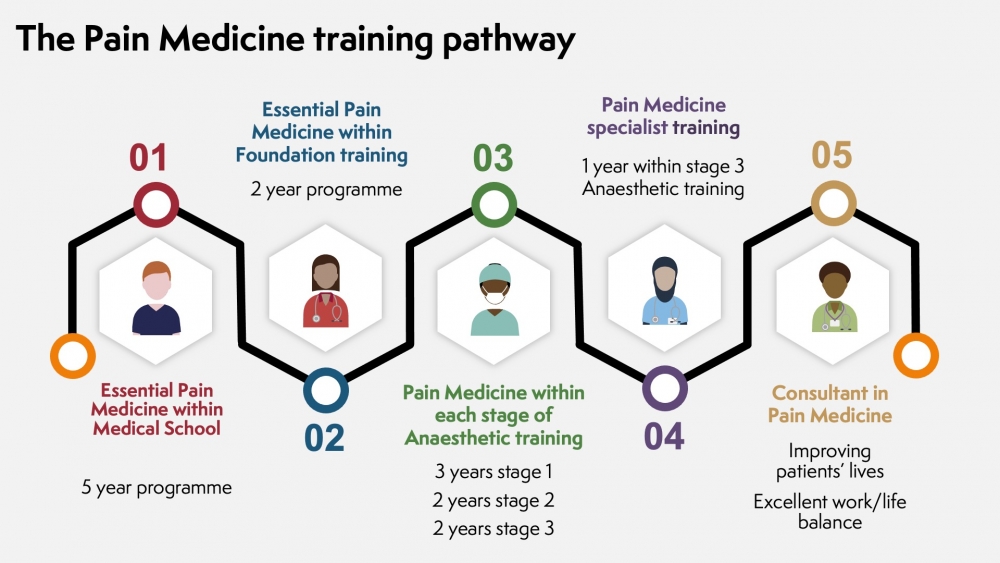 Click below to find more information on each of the different stages of pain training.
Do you have to do Stage 3 and Stage 3 SIA level training?
Stage 3 Pain Medicine training may be a standalone optional experience for those wanting a career as part of an acute/inpatient Pain Medicine team. Trainees embarking on a Pain Medicine career with substantial commitment undertake an advanced year and usually spend this in a single tertiary pain centre, or a number of units each with differing educational opportunities. During this, training experience is gained in consultation skills, pain procedures and learning how to manage a clinic.

What exposure is there to other specialties?
All Stage 3 SIA trainees are encouraged to spend time in clinics with other allied specialties, for example rheumatology or neurosurgery, gaining insight into diagnosis and management in these respective specialties. We are also given the freedom to develop 'special interests' in pain medicine from 'dropdown' parts of the Stage 3 SIA Pain Medicine curriculum in paediatric Pain Medicine, cancer Pain Medicine and spinal cord stimulation.

Examination
The FFPMRCA exam was established in 2012 covering both practical clinical knowledge and knowledge of relevant sciences. It is similar in structure to the final FRCA with an initial written exam consisting of MTF (multiple true/false), SBA (single best answer) and EMQ (extended matching questions). If that is passed, it is followed by two structured oral examinations: one clinical and one on relevant basic sciences. The aim of the examination is to enhance the practice of Pain Medicine in the UK and ultimately benefit patient care.
Having completed this new robust training scheme, pain trainees are entering into the ever changing and expanding field of Pain Medicine practice.

Further Reading
Are you currently undertaking pain training?
Register with the Faculty to receive additional updates and connect with your fellow trainees!